Daugavas krastmala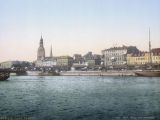 Daugavas krastmalas osta
20.gs. sākumā
14.gs par pilsētas galveno ostu kļūst Daugavas krastmala. Daugavas krastmala tika nostiprināta ar koka pāļiem jau no 13.gs. beigām. Gadsimtu gaitā vecie krasta nocietinājumi tika vairākas reizes laboti, pārbūvēti un atjaunoti no jauna. Katru reizi vecās krastmalas vietā tika būvēta jauna, kā rezultātā izveidojās neapbūvēts laukums, tagadējā 11. Novembra krastmala.
Par Daugavmalas ostu līdz pat 17.gs. saglabājušās ļoti skopas ziņas. 17.gs. Daugavas krastmala bija veidota kā cieša nepārtraukta pāļu siena ar daudzām noejām, kuras izmantoja kā ūdens ņemšanas vietas, kā arī šeit bija iespējams iekraut un izkraut kuģus. Izkraut Daugavas krastā gan varēja tikai upes kuģus, jo upe pie krasta bija tik sekla, ka jūras kuģi nevarēja noenkuroties. Ja kuģis noenkurojās pie krasta, bija jāmaksā pāļu nauda, tāpēc kuģi noenkurojās krasta tuvumā, bet preci nogādāja krastā ar laivām.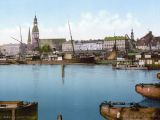 Daugavas krastmalas osta
20.gs. sākumā
18.gs. bolverka kopgarums pie pilsētas bija 3200 metri. Pilsētas krastmala, no Rīgas pils līdz Kārļa vārtiem, bija bruģēta, taču vietām tik šaura, ka ar grūtībām varēja samainīties divi pajūgi.
Kā savdabīga "osta - kuģu piestātne" kalpoja arī 1701. gadā uzceltais plostu tilts. Lejteces pusē pie tilta pietauvojās jūras kuģi, bet augšteces pusē – upju kuģi un pāri tiltam krava tika pārkrauta no viena kuģa otrā. Par kuģa pietauvošanu tiltam bija jāmaksā nodeva, bet pajūgi, kas piegādāja kravas, no nodevu maksāšanas bija atbrīvoti.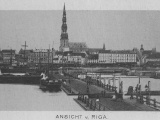 Daugavas krastmalas osta
20.gs. sākumā
Pēdējā koka krastmala Daugavā tika izbūvēta 1825. gadā. Pieaugot Rīgas ostas nozīmei, palielinājās arī ostas krasta garums. 1875.-1876. gadā veica Muitas krastmalas pārbūvi, veidojot tās jauno virsbūvi no kaltiem granīta akmeņiem. Laika posmā no 1887.-1891. gadam veco koka bolverku pretim Vecrīgai nomainīja ar jaunu pasažieru un preču kuģu piestātņu krastmalu, darbus vadīja Ā. Agte. Jaunā krastmala bija atvirzīta 25 metrus dziļāk upē, tas radīja pietiekami lielu dziļumu piestātnēm, kas atviegloja preču iekraušanu un izkraušanu. Krastmalā noteiktā attālumā tika novietoti lieli čuguna stabi kuģu pietauvošanai, kā arī bija izveidotas vairākas laivu piestātnes.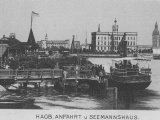 Daugavas piestātne Āgenskalnā
20.gs. sākumā
Rīgas ostas nozīme strauji pieauga 19.gs., kad tā kļuva par vienu no vadošajām Krievijas ostām. Daugavas krastmalā pretim Vecpilsētai, kas daudzus gadsimtus bija galvenā Rīgas osta, radās piestātņu trūkums. Tāpēc sāka izbūvēt arvien jaunas laivu un kuģu piestātnes tālāk no Vecpilsētas. Daugavā tika veikti padziļināšanas darbi, tika meklētas arvien jaunas vietas piestātņu celtniecībai. 19./20.gs mijā Rīgas osta jau aptvēra teritoriju 40 km garumā. 1830. gadā Rīgu apmeklēja pirmais tvaikonis "Oskar". 1850.gadā tika uzsākta Austrumu mola būve, no 1881. – 1885.gadam uzbūvēja Rietumu molu, un Rīgas jūras vārti iegūst savu šodienas izskatu.
Šādā izskatā Daugavas krastmala saglabājās līdz pat 1944. gadam, kad vācieši atkāpjoties, to uzspridzināja, kā rezultātā radās 24 bedres un nopietni bojājumi. Vecā krastmala tagad ir saglabājusies tikai senajās fotogrāfijās un zīmējumos.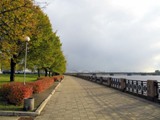 Daugavas krastmala šodien
Avots: liveinternet.ru, rizanka
Krastmalas atjaunošanas darbi tika veikti no 1945.-1949. gadam. Pirmais darbs, kas bija jāizdara – jāsagatavo krastmala 1945. gada ledus iešanai un pavasara paliem. Daugavas krastmala, kādu mēs to pazīstam šodien, tika atklāta 1949. gadā. Pārbūvējot Daugavas krastmalu tika mainīta arī tās funkcija, no pasažieru un kuģu piestātnes, tagad tā bija ieguvusi jaunu funkciju – tā kalpoja atpūtas mērķiem. Osta atvirzījās tālāk no pilsētas centra.