| | |
| | |
| |
Provodņiks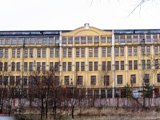 Bijušais Provodņika korpuss
Foto: Maksims Segals
Viens no jaunākajiem Sarkandaugavas uzņēmumiem, bet, varbūt pats slavenākais, ir krievu - franču kopuzņēmums "Provodņiks".11 "Provodņiks" tika dibināts 1888. gadā un nodarbojās ar gumijas izstrādājumu ražošanu. Lai arī "Provodņiku" nevar uzskatīt par vecāko gumijas industrijas uzņēmumu Rīgā, to var dēvēt par visnozīmīgāko gumijas fabriku. Jau 1889. gadā saražoto preču klāsts bija visai plašs, sākot ar gumiju ķirurģijai, cieto gumiju un linoleju. "Provodņikā" bija pat speciāls galošu cehs, kurā ik dienas tika saražoti 50 pāru gumijas apavu.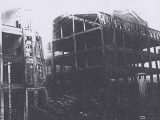 Provodņika bijušais korpuss pec
ugunsgreka 30 gados 20.gs
Lai arī "Provodņiks" tika uzskatīts par spēcīgu rūpniecības uzņēmumu, 1889. gada rudenī nodega galošu cehs un rūpnīca apturēja savu darbību, to atsākot pēc gada. Laiks no 1892. - 1900. gadam bija krīzes posms uzņēmuma pastāvēšanas vēsturē. Augšupeja uzņēmumā sākās 1900. gadā, kad uzlabojās visi ražošanas un finansiālie rādītāji. Ja 1888. gadā ražošanas platība apņēma 13700 kv. metrus, tad 1906. gadā tie jau bija 46000 metri. Arī uzņēmuma pamatkapitāls tika palielināts no 700000 rubļu 1888. gadā līdz 7 miljoniem rubļu 1907. gadā un tika arī izveidots 6 miljonu liels rezerves kapitāls. Gada apgrozījums 1910. gadā bija 21 miljons rubļu. Strādājošo skaits sasniedza 6000 cilvēku. Fabrikas izaugsmi līdz 1. pasaules karam apliecina galošu ražošanas pieaugums no 500 pāriem dienā 1889. gadā līdz 35000 pāriem dienā 1910. gadā.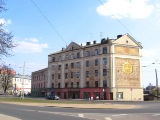 Provodņika darbinieku māja
Foto: Maksims Segals
Pēc 1. pasaules kara, tāpat kā visi Sarkandaugavas rūpniecības uzņēmumi, "Provodņiks" darbu neturpināja, jo visas iekārtas tika evakuētas uz Krieviju. "Provodņiks", pirms 1. pasaules kara, pēc strādājošo skaita un nozīmības, tika uzskatīts par lielāko un svarīgāko uzņēmumu ne tikai Sarkandaugavā, bet visā Rīgā.
1946. gadā jau bijušās rūpnīcas Provodņiks" teritorijā bija dibināta Rīgas elektromašīnu rūpnīca (RER).
| | |
| | |
| |