Daugavas promenāde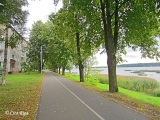 Daugavas promenāde
Ķengarags kādreiz bija ļoti industriāls rajons, kur nebija padomāts par zaļo zonu. Ja citās Rīgas apkaimēs ir dažādi parki, tad šeit to lomu pilda Daugavas promenāde. Sākotnēji Daugavas promenāde sākās kā veloceliņš pie Ķengaraga ielas, bet tagad tās sākums atrodas pie Dzelzceļa tilta.
Daugavas promenāde tika izveidota uz 1901. gadā kā dambis, kas nostiprināja Daugavas krastu, tā bija veidota no laukakmeņiem, koka pāļiem, žagariem un aizsardzības vaļņa. Tā tika izveidota, lai neizskalotu apkārtnes zemnieku zemes pavasaru plūdu laikā. Pirmās lielākās pārmaiņas promenāde piedzīvoja pēc Ķengaraga dzīvojamā rajona izbūves, tā tika labiekārtota un nostiprināta ar dzelzsbetonu.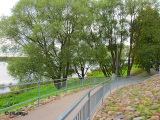 Daugavas promenāde
2012. gada Rīgas svētku laikā Daugavas promenādē, aiz bijušās rūpnīcas "Kvadrāts" tika atklāts gājēju tiltiņš. Tiltiņa tehniskā projekta autors Artūra Catūrova arhitektu birojs SIA "AbStudio", būvuzņēmējs SIA "Rišon Inter", bet Daugavas krasta labiekārtošanu. Daugavas promenādes labiekārtošana ir viens no Rīgas Austrumu izpilddirekcijas un iedzīvotāju ierosinātajiem Daugavas labā krasta rekonstrukcijas un labiekārtošanas projektiem.
Atjaunotajā promenādes posmā no Kaņieru ielas līdz Kvadrāta ielai, ierīkots apgaismojums, veloceliņi, uzstādītas ceļa zīmes, atklāts putnu novērošanas tornis, ierīkots aktīvās atpūtas laukums, uzstādīti šaha un tenisa galdiņi, izvietoti atpūtas soliņi, atjaunots esošais gājēju tiltiņš pie dīķa, izveidots panduss ar aizsargmūri cilvēkiem ar īpašām vajadzībām, ierīkots svētku apgaismojums, uzstādīts vides dizaina objekts "Velosipēds". Vides objekta projekta autori ir akmeņkalis G. Panders un tēlnieks Ā. Smildzers.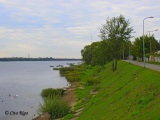 Daugavas promenāde
Daugavas promenādes labiekārtošanas darbi notiks arī turpmāk, pagarinot gājēju ceļu līdz putnu novērošanas tornim un izbūvējot zaļo teātri un skeitparku.
Elles dīķis atrodas pie ēkas Maskavas ielā 264. Dīķa izcelsme nav īsti zināma. Tiek izvirzītas hipotēzes, ka tās varētu būt senas raktuves, jo dīķa krastos atsedzas māls vai arī varbūt tā ir karsta kritene. 1668. gada zviedru kartēs un ilgi pēc tam dēvēts par Elles dīķi jeb Elles Djick, tas ir bijis dziļš un melns.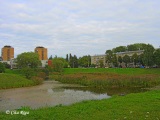 Elles dīķis
19.gs. dīķis nonāca Kuzņecovu fabrikas īpašumā, te bijušas fabrikas plašās un rūpīgi koptās dārzniecības, Dīķī dzīvojuši baltie gulbji. Šis, iespējams, ir slavenākais Latvijas dīķis, jo 2006. gada 19. decembrī Rīgas Dome akceptēja teritorijas detālplānojumu, atļaujot ierīkot dīķim apkārt daudzstāvu apbūvi un daļēji aizbērt dīķi. 2007. gada aprīlī domes Pilsētas attīstības departaments apstiprināja skiču projektu apkārtnes apbūvei. 2008. gadā janvārī PCTVL un SC Saeimas deputāti pārsūdzēja detālplānojumu Satversmes tiesā. 2008. gada 24. septembrī tiesa nolēma, ka detālplānojums ir atbilstošs Satversmei un likumiem.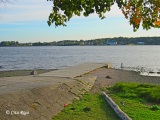 Daugavas mols
2010. gadā dīķa apkārtne pie Daugavas tika rekonstruēta un labiekārtota, uzcelts tiltiņš pāri dīķa attekai, ierīkots vingrošanas laukums un uzstādīta galda spēļu stacionārā iekārta, promenādei un veloceliņam par godu uzstādīts dekoratīvais divritenis pēc akmeņkaļa kalēja G. Pandara un tēlnieka Ā. Smildzera projekta.
Dīķa rajonā atrodas Daugavas mols, pēc nostāstiem būvēts militāriem mērķiem, lai varētu nolaist ūdenī kara amfībijas. Vietējie iedzīvotāji to izmantoja kā laivu piestātni gandrīz līdz 1993. gadam, kad to sāka demolēt un gremdēt. Tagad šajā teritorijā ir sastopami baltie gulbji un pīles.