Kapi Brasā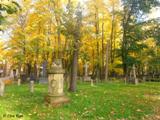 Pokrova kapi
Pokrova kapi
1770.-1772. gadā Krievijas impērijā plosījās mēris. 1772. gadā tika izdots Senāta "ukazs", kas aizliedza mirušos apbedīt baznīcās un blakus tām. Mirušos drīkstēja apglabāt tikai kapsētās. 1773. gadā Rīgā 2 km attālumā no Raunas vārtiem tika ierīkoti Pilsētas kapi ar nodalījumiem atsevišķām draudzēm, viens no šādiem nodalījumiem bija Pokrova kapi.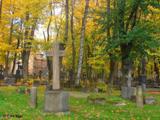 Pokrova kapi
Kopā ar Vagaņskas un Novodevičas kapiem Pokrova kapi bija Krievijas Impērijas piecu lielāko kapu skaitā. Tie izveidojās par Rīgas krievu kopienas galveno nekropoli. Krievu kopienu veidoja Latvijas teritorijā dzīvojošās krievu dzimtas, kā arī 20. gs. sākumā no PSRS atbēgušie kultūras darbinieki un zinātnieki. Apbedīšanu Pokrova kapos pārtrauca 1964. gadā, bet 1967. gadā tos apvienoja ar Lielajiem kapiem, lai veidotu memoriālo parku. 1991. gadā tika atjaunotas īpašumtiesības pār kapiem Latvijas Pareizticīgajai Baznīcai, kas atjaunoja kapu darbību.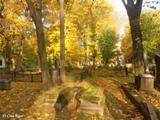 Pokrova kapi
Pokrova kapos ir apglabāti: Rīgas arhibīskaps Svētais moceklis Ioans (Pommers), dzejniece O.Z. Šmidt, valsts padomnieks V.F. Juzepčuks, gaišreğis Eižens Finks, rakstnieka A.N. Tolstoja sieva J.V. Rožanskaja, Krievijas pirmās žurnālistikas skolas direktors P.M. Piļskijs, gleznotājs, glezniecības akadēmiķis S.A. Vinogradovs, aktrise, Triju Zvaigžņu ordeņa kavaliere Vija Artmane, kā arī daudzi citi.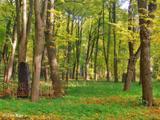 Lielie kapi
Lielie kapi
1773. gadā Rīgā 2 km attālumā no Raunas vārtiem tika ierīkoti Pilsētas kapi. Sākotnēji kapsētā bija iedalītas atsevišķas teritorijas lielākajām Rīgas pilsētas draudzēm: Sv. Jēkaba, Doma, Sv. Pētera, Sv. Jāņa, Reformātu, Jēzus un Sv. Ģertrūdes. Jēkaba kapu un pareizticīgo Pokrova draudzes nodalījums atradās vistuvāk pilsētai, un starp tiem atradās smilšu paugurs un sēta kas šos nodalījumus šķīra no pārējiem. Teritorijas bija norobežotas ar koka žogiem, kas pakāpeniski pazuda. Pirmās ziņas par žogiem kapsētas teritorijā ir no 19.gs. sākuma, kad arhitekts K. Hāberlands un būvmeistars J.D. Gotfrīds koka žoga vietā izveidoja žogus no sarkaniem ķieģeļiem ar koka starpposmiem, kas atradās gar senāko kapu daļu, kuras teritorija bija 36,7 ha. Tagad tikai Pokrova kapus no pārējās teritorijas atdala žogs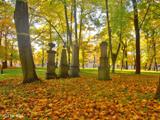 Lielie kapi
Sākotnēji kapu kopiņas bija izvietotas haotiski un kapsēta izskatījās kā liels smilšu lauks. 1823. gadā J. Cigra izstrādāja projektu Lielo kapu labiekārtošanai – veidojot to kā skaistu dārzu ar puķu dobēm, kokiem un apstādījumiem. 1824. gadā pēc J. Cigras projekta sāka Miera ielas izbūvi – kā kapsētas ceļu.
18.gs. likums reliģiskos rituālus atļāva veikt tikai baznīcās, bet pa pilsētas vārtiem zārkus varēja izvest tikai īsi pirms to atslēgšanas vai aizslēgšanas. Kā rezultātā jaunizveidotajos Lielajos kapos radās nepieciešamība pēc kapličas izveides. Pirmo kapliču Lielo kapu luterāņu daļā, kas bija no koka, uzbūvēja 1773. gadā (pēc citiem avotiem 1776. gadā) namdaris J. Krēmers. Tā bija astoņstūraina koka kapelu ar skārda jumtu un zvanu torni, kuru tā sienu krāsojuma dēļ dēvēja par Zaļo kapelu. Zāle bija paredzēta bēru ceremonijām, bet pagrabs kalpoja kā kapenes tiem, kas nevēlējās atsevišķu kapavietu zemē.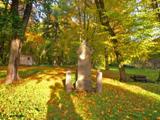 Lielie kapi
1832. gadā pagrabā apglabātos pārapbedīja kopīgā masu kapā. Jēkaba kapos kapliču uzcēla 1793. gadā, bet 1886. gadā pārbūvēja pēc arhitekta O. Zīversa projekta. Mūra kapliča tika uzcelta 1859.-1861. gadā pēc J. Felsko projekta, bet 1891. gadā to pārbūvēja pēc N. Neiburgera projekta.
1913. gadā tika izveidoti Meža kapi, kas pamazām pārņēma Lielo kapu funkcijas. Tāpat arī 1939. gadā emigrēja liela daļa vācbaltiešu, kuru piederīgie bija apglabāti Lielajos kapos. 1944. gadā devās trimdā vai tika izsūtīti daudzi turīgie rīdzinieki, līdz ar to daudzus kapus vairs neviens nekopa. 1958. gadā Lielie kapi tika slēgti.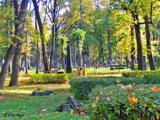 Lielie kapi
Lielajos kapos ir apglabāti virkne ievērojamu 18.-20.gs. sākuma sabiedrības un kultūras darbinieku.
Šodien parka oficiālais nosaukums ir Valsts nozīmes arhitektūras piemineklis Nr. 6636 "Dārzu un parku ansamblis "Lielie kapi" ar memoriālām celtnēm".