Sv. Jāņa baznīca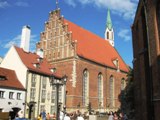 Sv. Jāņa baznīca
Avots: riga.in
Jāņa baznīca pirmo reizi rakstītajos vēstures avotos minēta 1297. gadā sakarā ar rīdzinieku nopostīto ordeņa pili. Sākotnēji Jāņa baznīcas vietā 13.gs atradās Dominikāņu klostera kapela. Rīdzinieki izmantoja dominikāņu klosteri, kas atradās blakus pilij tās aplenkšanai. Rīdzinieki noplēsa baznīcas jumtus, nocietināja baznīcas mūrus un apšaudīja pili. 1330. gadā dominikāņu mūki palielināja savus īpašumus. Tieši šajā gadā arī sāka paplašināt un pārbūvēt Jāņa baznīcu. Baznīca tika celta no ķieģeļiem, ar biezām sienām, šauriem pusaploces logiem. Velvju balstīšanai tika uzcelti kontroforsi, taču šaurais gruntsgabals neļāva tos novietot ēkas ārpusē, tāpēc tie bija jāceļ iekšpusē, kas radīja īpatnēju baznīcas arhitektonisko risinājumu – kontroforsi veido baznīcas iekštelpās četras nišas, kuras var izmantot sānu altāru ierīkošanai.
Rīdzinieku cīņās ar ordeni 15.gs. beigās Jāņa baznīca līdz ar klosteri tika nopostīta, saglabājās tikai baznīcas mūra apakšējā daļa, ziemeļrietumu portāls un vārti.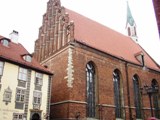 Sv. Jāņa baznīca
Nopostītās baznīcas vietā 15. gs beigās un 16.gs. sākumā tika uzcelta jauna uz vecās baznīcas mūru paliekām. Šajā laikā ēkas viduslaiku daļa ieguva savu tagadējo veidolu - ar augstu gotisko pakāpjveida zelmini, divslīpju jumtu un nelielu tornīti. 1523.gadā Rīgas rāte dominikāņiem Jāņa baznīcu atņēma. Pamestajā baznīcā tika ierīkots zirgu stallis un lopu kūts, tomēr tie telpās atradās tikai neilgu laiku. To vietā Rīgas rāte ierīkoja savu karapulku ieroču noliktavu, kas pastāvēja līdz pat 1582. gadam, kad latviešu draudze Jāņa baznīcu ieguva savā īpašumā. Tomēr Rīgas latviešu luterāņu draudzei nelielā klostera baznīca bija par mazu. 1587.-1588. gadā Jāņa baznīcu paplašināja ar jaunu altāra piebūvi. Šajā laikā baznīcā tika uzceltas toskāniešu kolonas uz augstām pakājēm, ārējās sienu virsmas sadalītas ar pilastriem un pusloces arkām. 17.gs. sākumā tika piebūvētas zelmiņa abas ielodzes, tika uzstādītas divas no smilšakmens cirstas skulptūras – Jāņa Kristītāja un Salomes.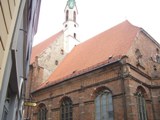 Sv. Jāņa baznīca
18. gs Jāņa baznīca vairākas reizes cieta, kā rezultātā tika pārbūvēta. Baznīcas tornītis, kas ir saglabājies līdz mūsdienām, celts 1849. gadā pēc arhitekta J.D. Felsko projekta. Jāņa Kristītāja statuja laika gaitā sadrupa, 1929. gadā to aizstāja tēlnieka K. Rončevska darinātā kopija.
Ar Jāņa baznīcu saistīta leģenda -15. gadsimtā divi dominikāņu klostera mūki ļoti vēlējušies tikt svēto godā, tāpēc viņus dzīvus iemūrēja baznīcas sienā. Kamēr abi klostera mūki bijuši dzīvi, rīdzinieki viņus barojuši pa īpaši šim nolūkam baznīcas sienā atstāto caurumu. Tomēr pēc mūku nāves pāvests viņus nepasludināja par svētajiem. Mūku mirstīgās atliekas vēl joprojām atrodas baznīcas sienā, un viņu piemiņai baznīcas ārsienā ir krustveida caurums.
| | |
| |
|