Rīgas arhitektūra 13.-16.gs.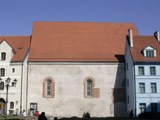 Rīgas Sv. Jura baznīca
Raksturīgākā viduslaiku pilsētas būve, bez kuras pilsēta nemaz nevarētu pastāvēt, bija pilsētas mūra nocietinājumi. Pirmā mūra siena bija Daugavas labajā krastā no upes grīvas gar tagadējo Minsterejas, Kalēju, Meistaru un Zirgu ielu līdz Daugavas krastmalai un atkal sasniedza Rīgas upes grīvu pie Minsterejas ielas. Nocietinājuma mūris bija aptuveni 9 metrus augsts un 1,30 metrus plats. Pirmo reizi tā daļa tika atsegta 1937. gadā, kad nojauca pie tā piebūvētās ēkas Jāņa sētā. Mūra fragments tika rekonstruēts 1960. gadā. Tas atrodas tagadējās Jāņa sētas vietā. No ārpuses pilsētas nocietinājumi izskatījās kā augsta mūra siena, bet iekšpusē tie bija sadalīti divos stāvos.
Viduslaiku Rīgā bija iespējams iekļūt tikai pa vārtiem. Tomēr, lai labāk aizsargātos pret ienaidniekiem, pie pilsētas vārtiem tika uzbūvēti augsti torņi. ( >> Spēle Vecrīgas torņi)
Tā laika posma nozīmīgākās Rīgas celtnes bija pirmā Doma baznīca, Rīgas bīskapa pils (Jāņa sētas rajonā) un Zobenbrāļu ordeņa pils (Konventa Sētas rajonā). No pirmās Rīgas līdz mūsdienām saglabājusies tikai viena celtne Svētā Jura baznīca.
Bez iepriekš minētajām celtnēm Rīgai sāka veidoties arī pilsētai raksturīgā dzīvojamā apbūve. Sākumā visi Rīgas nami tika celti no koka ar salmu jumtiem. Līdz ar to pilsētā bija liels ugunsnelaimju risks.
Jau 1215. gadā Rīgā notika pirmais nopietnais ugunsgrēks. Lielā gavēņa laikā naktī pilsētā izcēlās liels ugunsgrēks. Dega pilsētas daļa, ko apņēma pirmais mūris, no Svētās Marijas baznīcas, kas nodega kopā ar lielajiem zvaniem, līdz bīskapa mājai ar blakus esošajām mājām un līdz ordeņa brāļu baznīcai.
1293.gadā Sv. Mārtiņa naktī izcēlās liels ugunsgrēks, pēc kura pilsētas būvnoteikumos Rīgas pilsētā tika aizliegts celt koka ēkas. Ēkas bija jāceļ no akmeņiem vai ķieģeļiem un jāliek dakstiņu jumts. Pieņemtā lēmuma rezultātā Rīga pamazām no koka pilsētas pārvērtās par mūra pilsētu. Lai veicinātu mūra namu celtniecību, Rīgas rāte apsolīja ķieģeļu piegādes izdevumus segt no saviem līdzekļiem.
Rīgas pilsēta 13.gs. sākumā sāka izplesties arī ārpus pilsētas mūriem. Pieaugot iedzīvotāju skaitam, ārpus pilsētas mūriem radās arvien vairāk dzīvojamo ēku. 13.gs. vidū šo apbūvēto piepilsētas rajonu ieslēdza pilsētas mūros. Mūra sienu pagarināja no Zirgu ielas līdz Pulvertornim, no turienes Torņa ielas virzienā līdz Daugavai to turpināja vecais mūris. Paplašinātā Rīgas teritorija pastāvēja vairākus gadsimtus, līdz tā atkal tika paplašināta. Jaunais pilsētas mūra fragments ir saglabājies līdz šodienai un ir redzams Lielajā Trokšņa ielā. Mūra siena ir rekonstruēta un tajā atrodas arī vairāki torņi.
14.gs. Rīgas arhitektūru raksturoja jaunu sabiedrisko ēku celtniecība, kuras realizēšanai tika pieaicināti ārvalstu arhitekti, kuru projektus realizēja vietējie celtnieki un amatnieki. Vietējo iedzīvotāju dzīvojamās ēkas cēla un plānoja pārsvarā paši rīdzinieki. Dzīvojamās ēkas cēla ar zelmini pret ielu un tās bija apvienotas ar noliktavām. Dzīvošanai tika izmantots tikai ēkas apakšējais stāvs, bet ēkas augšējos stāvus izmantoja noliktavu vajadzībām.
Ieviesās tradīcija, ka atsevišķu amatniecības nozaru darbnīcas parasti atradās vienā ielā, uz ko norāda arī ielu nosaukumi.
15.gs. Rīgā bija raksturīgas gotiskas dzīvojamās ēkas ar lielu, augstu priekštelpu un pret ielu vērstu zelmini, kuras radušās no pirmajām Rīgas pildrežģa celtnēm, bet nevis no senākajiem mūra namiem. Mūros ieslēgtās pilsētas nomalēs un ārpilsētā vienlaikus būvēja arī guļkoku ēkas pēc vietējo iedzīvotāju celtniecības tradīcijām.