Āgenskalna tirgus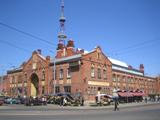 Āgenskalna tirgus
20.gadsimta sākumā kvartāla stūri starp Lielo Nometņu, Tirgus un Puķu ielu vēl aizņēma Sētas krogs (vācu val. Zaun Krug). Sētas kroga pagalmā atradies pirmais Āgenskalna tirgus. Vēlāk tirgu pārceļ uz Kalnciema un Sētas ielas stūri. Tirdzniecība notika tieši uz ielas. 1895.gada 21.augustā, Rīgas pilsētas valdes izveidota, īpaša komisija nolēma veco tirgu likvidēt, un ierīkot jaunu, lielāku tirgus laukumu otrā L.Nometņu ielas galā, kur atzarojumā pie Zeļļu ielas pletās 4490 kvadrātasu liels neapbūvēts, privāts gruntsgabals. Pilsētas valde par 15245 rbļ. iegādājās šo gruntsgabalu tirgus celtniecībai. Jaunais tirgus laukums tika atklāts 1898.gada 1.janvārī, taču tradīcijas iepirkties vecajā tirgus vietā tik ātri neizzuda. Kaut arī pastāvēja jaunais tirgus laukums, vasarā vecajā Sētas tirgū tirdzniecība turpinājās.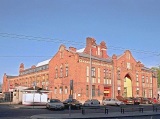 Āgenskalna tirgus
Jaunajā tirgus teritorijā tikai 616 kvadrātasu lielu teritoriju piemēroja tirgus vajadzībām, tirdzniecība tāpat kā iepriekš notika zem klajas debess. 1905. gadā, ierīkojot 8.tramvaju līniju, nosprauda jauno Bāriņu ielu, kas daļēji veda caur tirgus teritoriju, līdz ar to samazinot to. Tā kā jaunais tirgus atradās kādreizējās Grāvmuižas teritorijā, tad pirmajos gados gan oficiāli, gan tautā to dēvēja par Grāvmuižas tirgu. Āgenskalna tirgus nosaukums nostiprinājās tikai pamazām. Tirgū pārdeva gaļu, piena produktus, zivis, augļus un saknes, maizi, miltus, putraimus, malku un mājsaimniecības priekšmetus. Pirms 1. Pasaules kara Āgenskalna tirgū tirgotāju skaits pārsniedza jau 625. Radās nepieciešamība uzlabot tirdzniecības apstākļus un pilsētas valde nolēma celt slēgtu, modernu tirgus paviljonu.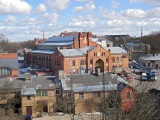 Āgenskalna tirgus
Avots: riga.in
Tirgus paviljona projektu izstrādāja Rīgas pilsētas galvenais arhitekts Reinholds Šmēlings. Jaunā paviljona būve uzsākta 1911.gadā, bet 1. Pasaules kara dēļ 1914.gadā nav pabeigta. Celtniecības darbus izdevās atsākt tikai 1923.gadā un līdz 1925.gadam pabeigt iekšējo apdari. Āgenskalna tirgus paviljons bija modernāks nekā gadsimtu mijā celtie Vidzemes tirgus paviljoni, tajā tika ierīkota centrālapkure, izbūvēti pagrabi, paredzēta vieta saldētavai, kuru līdzekļu trūkuma dēļ uzreiz neierīkoja. Tika izbūvēta arī otrā stāva galerija, kur tāpat bija tirdzniecības vietas. Paviljona platība bija 1500m ar 103 tirdzniecības vietām.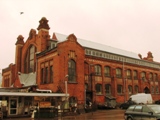 Āgenskalna tirgus
20. gs 20. - 30.gados pēc arhitekta A.Grīnberga projekta pārbūvēja ieejas daļas telpas, kur sākotnēji bija paredzēts restorāns. Daļēji pārveidoja arī logu ailas galvenajā fasādē. 1930.gadā apkārt Āgenskalna tirgus teritorijai tika uzcelts metāla žogs ar betona stabiem un uzbūvēta arī sarga mājiņa.
1940.gadā Āgenskalna tirgus paviljona ēkas otrajā stāvā pēc arhitekta A.Strazdiņa projekta izbūvētas veikala telpas.
Āgenskalna tirgus ēka ir raksturīgs 20.gadsimta sākuma racionālā jūgendstila paraugs. Ēkas ārsienas mūrētas no sarkanajiem ķieģeļiem, rotātas ar baltiem apmetuma laukumiem. Fasādē izceļas vertikālās logailas un dekoratīvā skursteņu apdare. Iekšējā nesošā konstrukcija ir metāla karkass, kas balsta 2.stāva līmenī izbūvētās tirdzniecības galerijas un režģotu metāla rāmju kopņu pārsegumu ar vienlaidu virsgaismas logiem.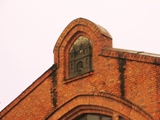 Āgenskalna tirgus ēkas
elements - Rīgas ģerbonis
Āgenskalna tirgus kopējā platība ir ~8,3 tūkst.m. Tirgus atklātā teritorija ir paredzēta 219 tirdzniecības vietām un divi paviljoni: dārzeņu paviljons 116 tirdzniecības vietām, bet piena un gaļas paviljons 108 tirdzniecības vietām.
Kopš 1998.gada Āgenskalna tirgū tiek izveidotas jaunas un modernizētas vecās tirdzniecības vietas. 2001. gadā veikts daļējs tirgus fasādes un iekštelpu remonts.