Mežaparks
17. gs Mežaparka apkārtne tika saukta par Ķēniņu mežu, jo 1621. gadā zviedru karalis Gustavs II Ādolfs tur ierīkoja savu karaspēka nometni. Vēlākais nosaukums Ķeizarmežs saglabājās līdz pat 1923. gadam, kad to oficiāli pārsauca par Mežaparku.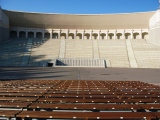 Līdz pat 19. gs vidum šeit dzīvoja zemnieki, kas savu produkciju piegādāja Rīgai, kā arī tā bija pilsētnieku iemēļota atpūtas vieta vasarās. 19. gs beigās Rīgas pilsētas galvenajam inženierim Ā. G. Āgtem radās ideja par vasarnīcu veidošanu Ķīšezera rajonā. 20. gs sākumā sākās intensīva vasarnīcu celtniecība, ainavu arhitekts bija G. Kūfalts un galvenie arhitekti bija H. Janzens, G. Tīzenhauzens un E. Kupfers. Latvijas Neatkarības gados turpinājās Mežaparka apbūve, kad tika uzcelti vairāki simti savrupmāju. Tomēr situācija Mežaparkā krasi mainījās pēc 2. Pasaules kara, kad lepnās savrupmājas tika denacionalizētas un pēc tam daudzas ēkas tika atstātas novārtā. Tikai 20.gs 90. gados ēkas tika atgrieztas to likumīgajiem mantiniekiem un Mežaparks ir izveidojies par vienu no prestižākajiem pilsētas rajoniem.

Mežaparkā atrodas arī viena no pilsētnieku iemīļotākajām atpūtas vietām Rīgas Zooloģiskais dārzs, kas ir vecākais Ziemeļeiropā.

Tieši Mežaparkā atrodas Dziesmu svētku Lielā estrāde, kas reizi četros gados, kļūst par mājvietu vienam no vērienīgākajiem notikumiem kultūras dzīvē Dziesmu svētkiem. Tāpat arī Zaļais teātris, mazākā luterāņu baznīca Rīgā...

Mežaparks ir arī iemīļota atpūtas zona pilsētniekiem, kur iespējama gan aktīva atpūta visai ģimenei.

Iepazīstiet vienu no skaistākajiem un prestižākajiem Rīgas rajoniem kopā ar mums.