Sāpju dievmātes katoļu baznīca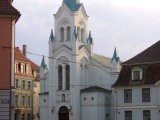 Sāpju dievmātes baznīca
Senākās ziņas par baznīcas pastāvēšanu šajā vietā ir no 1582. gada, kad tiek pieminēta Vissvētākās Jaunavas Marijas baznīca, kurā līdz 1621. gadam notika dievkalpojumi. Baznīcas tālākais liktenis nav zināms.
Nākamās ziņas par baznīcu šajā vietā ir tikai no 18.gs. 1761. gadā tika nopirkts gruntsgabals no kāda inženiera - pulkveža blakus pilij, uz kura bija dažas ēkas. Šeit vienā no ēkām, iespējams, bija arī iekārtota zāle dievkalpojumu noturēšanai. 1764. gadā minētajā teritorijā prāvests Šmits pēc būvatļaujas saņemšanas uzsāka samērā nelielas oratorijas būvi, ko pabeidza 1765. gadā. Divdesmit gadus šī mazā kapela ir pulcinājusi Rīgas, visas Vidzemes, kā arī iebraukušos ārzemju katoļus.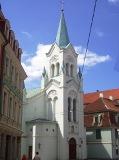 Sāpju dievmātes baznīca
Jaunās katoļu baznīcas celtniecība notika no 1784.-1785. gadam. Tā bija pirmā jaunuzceltā katoļu baznīca Rīgā pēc Reformācijas. Baznīca tika veltīta Sāpju Dievmātes godam, kas simboliski izteica apspiesto katoļticību Māras zemē. Baznīcas celtniecībā plaši tika izmantots cunftēs neiesaistīto krievu amatnieku darbs. Sāpju Dievmātes baznīcas arhitekts un būvmeistars nav zināms. Tā kā visas celtnes pie Pils laukuma pēc Krievijas carienes Katrīnas II rīkojuma tika celtas klasicisma stilā, tad to pašu vajadzēja ievērot arī ceļot Sāpju Dievmātes baznīcu. Iespējams, šīs agrīnā klasicisma stilā veidotās celtnes būvniecību konsultēja K. Hāberlands.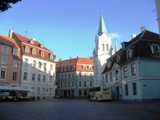 Sāpju dievmātes baznīca
Ēkas krāsojums ir bijis klasicisma vēsajos, atturīgajos toņos - zaļgans ar baltu. Baznīcas tornis atradās virs altāra apsīdas, tā augšgalu noslēdza puslodes formaskupols. Šis tornis atšķirībā no citiem Rīgā šajā laikā klasicisma stilā celto baznīcu torņiem ir bijis salīdzinoši zems. Sāpju Dievmātes baznīcas tornis ir palicis salīdzinoši zems un nav būtiski mainījis Rīgas panorāmu.
Baznīcas pārbūves darbi tika veikti no 1858. -1860. gadam. Darbi tika veikti pēc arhitekta J. Felsko plāna. 1859. gadā baznīcas prezbitēriju pārcēla pretējā - dienvidrietumu pusē, tika piebūvēta sakristeja. Tādā veidā baznīca labāk iekļāvās Pils laukuma ansamblī, jo tā reprezentatīvais raksturs "pieprasīja", lai ēkas būtu vērstas ar fasādēm pret laukumu. Interesanti, ka katoļu baznīcā īpaši strikti tika ievērota baznīcas orientācija rietumu - austrumu virzienā. Tradicionāli baznīca ir primārā celtne, bet pārējās ēkas tiek saskaņotas un pakārtotas tai. Sāpju Dievmātes baznīcas pārbūves gadījumā vērojama pretēja darbība - baznīca tiek pārorientēta, pieskaņojot to laukuma apbūvei.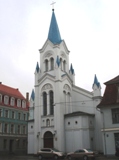 Sāpju dievmātes baznīca
Pēc J. Felsko projekta veidotā baznīcas fasāde veidota pseidoromāņu stilā. 1885. gadā baznīcas rietumu pusē piebūvēja 8 - šķautnainu baptistēriju. Tāda šī baznīca ir saglabājusies līdz mūsu dienām. Tā ir trīsjomu celtne ar cilindriskām velvēm, segta ar divslīpņu skārda jumtu. Baznīcas mūra sienas ir apmestas un krāsotas gaiši zilganzaļā un baltā krāsā, saglabājot klasicismam raksturīgo krāsu gammu.
1837. gadā baznīcas ziemeļu pusē par pilsoņa Mārtiņa Boldaševska līdzekļiem tika piebūvēta neliela kapela, tajā bija viens altāris. No 1895. - 1896. gadam no jauna uzcēla mūra kapelu itāļu renesanses stilā par grāfa Justiniāna Ščita un viņa radinieku ziedotajiem līdzekļiem. Šī kapela tika iesvētīta Rožukroņa Dievmātes godam 1896. gada Vasarassvētkos. Tajā bija trīs altāri: centrā Rožukroņa Dievmātes, pa labi – sv. Jāzepa, pa kreisi – Jēzus Sirds godam.
| | |
| |
|