Anniņmuiža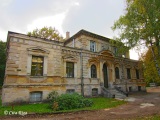 Anniņmuižas ēka
Anniņmuiža (Annenhof Waldschloss, Анненгофъ) ir vienīgā no Imantas muižām, no kuras kompleksa saglabājusies kāda būve, 19.gs. beigās neorenesanses stilā celtais Anniņmuižas dzīvojamais nams, kas laika gaitā ir maz pārveidots, taču neatrodas labā tehniskā stāvoklī. 17.gs. beigās vietā, kur tagad atrodas Anniņmuiža bijusi Meinerta muiža (Meinershoff, Meyners Hof), lai gan dokumentos tā pirmo reizi minēta jau 1595. gadā. 1768. gadā muižu iznomāja slepenpadomniekam, baronam O. H. fon Fītinghofam Šēlam (Otto von Vietinghoff gen. Scheel), kura īpašumā tolaik bija Zolitūdes un Šampētera muižas. Pēc Fītingofa Šēla kāzām ar Annu Ulriku fon Minihu muiža tika pārsaukta par Anniņmuižu, īpašnieka sievas vārdā. Pēc nosaukuma maiņas muiža tika saukta par "jautro muižiņu", jo tur notika teātra izrādes un organizētas balles.
Anniņmuižas ēka
Foto: Ģirts Konstants
18.gs. beigās muiža tika pārdota Oto Heinriham fon Igelstrēmam, jau 1817. gadā īpašnieks bija maiznieks Georgs Losbergs, līdz pat 1889. gadam, kad to iegādājās K. Jensens, muižai nepārtraukti mainījās īpašnieki. Jensenu dzimtai tā piederēja līdz pat 20.gs. 20-tiem gadiem. 19.gs. beigās blakus iepriekšējam muižas centram tika uzcelta dzīvojamā ēka un izveidots regulāra plānojuma parks. Celtnes projekta autors nav zināms.
Muižas ēka tika postīta 1905. gada nemieros, pēc 1. Pasaules kara ēka ilgāku laiku palika izpostīta, vēlāk to atjaunoja. 20.gs. 30-tajos gados muižas parkā tika svinēti svētki un rīkotas zaļumballes. 1948. gadā zeme tika piešķirta lauksaimniecības tehnikuma izveidei. Kopš 1957. gada šeit darbojās 2.internātskola. 20.gs. 70-to gadu sākumā tā nonāca LU īpašumā. Sākotnēji šeit atradās Ģeogrāfijas fakultāte, tagad – Pedagoģijas fakultāte un LU dienesta viesnīca. Muižas ēkā atrodas studentu darbnīcas un Pedagoģijas vēstures muzejs.
Ārējās saites:
• Latvijas Universitātes Pedagoģijas fakultāte oficiālā mājaslapa.
• Normunds Normis, 11.03.2014 – Anniņmuižas bildes.
• Gatis Pāvils, 2009 – Anniņmuižas "meža pils".
Anniņmuižas bildes
Anniņmuižas ēka
Aleja pie Anniņmuižas ēkas
Dīķis pie Anniņmuižas ēkas