Krievu sēta
Krievu sēta XX.gs. sākumā
Avots: riga.lv
Iespējams, ka krievu tirgotāju apmešanās vieta veidojās pēc 1212.gada Rīgas un Polockas līguma noslēgšanas. Tirgotāju ciematu izveidoja ārpus pilsētas aizsargmūriem Daugavas augšteces labajā krastā, ko ap 1230.gadu iekļāva pilsētā. Šeit arī tika izveidotas pirmās tirgus nojumes, kas laikā gaitā ir gājušas bojā. 1642.gadā ārpus pilsētas mūriem no jauna ierīko krievu sētu jeb to saucamo Maskaviešu namu, kas pastāvēja līdz 1700.gadam, kad sākās Ziemeļu karš. 17.gs. Novgorodas un Pleskavas tirgotājiem ar savām precēm tur bija obligāti jāuzturas. Krievu sēta aizņēma ļoti lielu platību - četras ielas- tagadējo Gogoļa, Turgeņeva, Puškina un Elijas ielas.
1769.gadā fortifikācijas arhitekts Nikolajs Gerbels, kopā ar inženieri Ivanu Goļeņiščikovu - Kutuzovu pārstrādāja pilsētas attīstības plānu, kas paredzēja arī krievu tirdzniecības sētas un veikalu nojumu izbūvi Latgales priekšpilsētā, taču līdzekļus vietas atbrīvošanai un ēku būvniecībai vāca ilgi, tāpēc ēku kompleksu cēla līdz 1772.gadam. Ēkas tika uzceltas uz tagadējās Turgeņeva ielas, starp esplanādi un Jēzus luterāņu baznīcu. Jau 1775.gadā krievu tirgotājiem piederēja 92 tirdzniecības nojumes, kurās pārdeva sāli, audumus, linus, dzelzs izstrādājumus u. c. preces.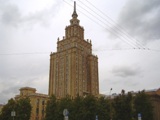 Zinātņu Akadēmijas ēka
2008.g.
Pēdējo reizi krievu tirgotāju sētas uzcēla no jauna pēc 1812.gada ugunsgrēka, kad nodega ne tikai šī tirgotāju sēta, bet arī 782 koka ēkas. Pēc lielā ugunsgrēka Rīgai bija nepieciešamība pēc tirgus un noliktavu telpām. Valsts krievu tirgotāju sētas projektam asignēja 150 tūkst. rubļu uz desmit gadiem un uz procentiem. 1818. gadā tapa koka divstāvu ēku komplekss ar plašu iekšpagalmu, tirgotavām pirmajā stāvā, iebraucamajām vietām, kantoriem un traktieriem. Šo projektu realizēja arhitekts V.Stasovs pēc fasāžu paraugprojekta dzīvojamam namam un tirdzniecības telpām pirmajā stāvā.
Taču jāsaka, ka komplekss tapa ar lielām izmaiņām, jo kompleksa lielums neatbilda fasāžu lielumam, to vairākkārtēji pagarināja un rezultātā ieguva ēku, kas lieliski atbilda savai funkcijai - tirdzniecībai. Lai paplašinātu celtni atsevišķus korpusus savienoja ar arkām. Kopumā tika uzcelts tam laikam grandiozs ēku komplekss. Šīs iebraucamās arkas bija identiski vienādas ar Aleksandra vārtu arku, vienīgā atšķirība bija tā, ka Aleksandra vārti bija celti no akmens, bet krievu sētas arka no koka. To līdzība liecina, ka abas varētu būt būvētas pēc viena projekta un autors varētu būt - K.F. Breitkreics. Krievu tirgotāju sēta celta klasicisma stilā no augstvērtīga priedes koka, sastiprināta ar kaltām dzelzs naglām. Kolonnas bija celtas no egles koka.
Pirms 2. Pasaules kara tā vēl daļēji pildīja savu tiešo funkciju. Taču 20.gs. 50.gados ēku kompleksu izslēdza no kultūras pieminekļu saraksta un uzsāka koka ēku nojaukšanu, lai uzceltu tagadējo Zinātņu Akadēmijas ēku.