Maskavas forštates vēsture
Krievu sēta XX.gs. sākumā
Avots: riga.lv
Maskavas priekšpilsēta tagadējo veidolu ieguva 19.gs. un 20.gs. sākumā. Taču tā visos laikos bija cieši saistīta ar Rīgas centra norisēm, bieži gan paliekot nostatu un attīstoties savā citur neraksturīgā veidā.
Latgales priekšpilsētas agrākais nosaukums bija Lastadija. Lastadijas nosaukums cēlies no vācu valodas "die Last" - krava, vai arī no toreiz vairumtirdzniecībā lietojamās mērvienības lasta. Lastadijā darbojās pilsētas kaļķu ceplis, virvju darbnīca, 15.gadsimtā šeit uzsāka būvēt kuģus. Lastadijas ekonomiskā vide nodrošināja labu attīstību priekšpilsētai.
Maskavas priekšpilsēta XIX.gs.
Avots: riga.lv
Maskavas priekšpilsētas attīstībā liela loma jau no 15.gs. bija krievu un ebreju tautības iedzīvotājiem. 15. gs. Rīgas rāte neatļāva krievu tirgotājiem apmesties uz dzīvi pilsētas robežās. Atbraucot ar precēm pa lielo Maskavas ceļu, tirgotāji izvietojās pilsētas vārtu priekšā, uzcēla teltis, barakas un mājeles. Tirgoņi atveda sev līdz palīgus: būvju un dažādiem citiem darbiem viņiem vajadzēja savus "kristīgos" cilvēkus. Tā tika apbūvēta Maskavas iela.
Pirmās ziņas par ebreju tirgotāju ierašanos Rīgā datētas ar 1536. gadu. Taču pastāvīga ebreju apmetne sāka veidoties 1638. gadā, kad aiz Rīgas mūriem, pie tā saucamām Kārļa slūžām, tagadējā Centrāltirgus rajonā, uzcēla atsevišķu ebreju apmešanās namu. Katru dienu, beidzoties tirgošanās laikam, ebrejiem bija jāatstāj pilsētas teritorija, kur viņi drīkstēja atkal atgriezties tikai pēc tirgus atvēršanas. Likums par aizliegumu dzīvot Rīgā palika spēkā arī pēc Vidzemes un Rīgas pievienošanas Krievijas impērijai.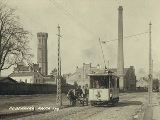 Maskavas priekšpilsēta XIX.gs.
Avots: www.riga.lv
"Aiz sīkumtirgus stiepjas Maskavas iela. Te vairs nav savrupmāju, ģerāniju un aizkaru. Šeit no noplukušām sienām, no pagalmu logiem rēgojas trūkums, huligānisms, netikumi. Jo tālāk Maskavas ielas dziļumā, jo drūmāka aina. Pastaigāties svešiniekam tur pat dienas laikā ir nedroši. Gandrīz katru dienu uz Maskavas ielas paceļ kādu ar ielauztu galvaskausu, ar kasteti sašķaidītu žokli, ar naža durtu brūci zem ribām vai starp lāpstiņām. Apkārtējie traktieri mudž no zagļiem un huligāniem. Katrā otrajā mājā Maskavas ielā bija ierīkots traktieris. Traktieris "Oga", "Amerika", tējnīca "Zelta rags" tas ir tikai neliels ieskats no nedaudzajām 20.gs. sākumā redzamajām iestādēm. Īpašs krāpnieku midzeklis bija uz Katoļu un Sadovņikova ielas stūra esošajā traktierī. Šeit tirgoja sazagtās mantas, policija neiejaucās, jo bija aizņemta ar civilajām lietām, tā esot tikai par tiesnesi.
1874. gadā atklāja omnibusa maršrutu. Izejas punkts bija rātslaukums, beigu punkts Krasniji gorki (Красные горки), kur sagāja kopā tagadējās Maskavas, Daugavpils, Grebenščikova un Jersikas ielas, pēc astoņiem gadiem to nomainīja zirgu tramvajs pa Maskavas ielu līdz Plosta tiltam. Biļešu cena bija dažāda no 3 kapeikām II klasē, t.s., "netīrajā", jo atradās blakus vadītājam, līdz 5 kapeikām I klasē, t.s., "tīrajā". Zirgu tramvajam bija divi vagoni, paredzēti 11 pasažieru pārvadāšanai. Pirmā vagona priekšā bija novietota plāksnīte vācu valodā ar tramvaja maršruta sākuma vietas nosaukumu, bet galapunkta nosaukums bija krievu valodā un novietots otrā vagona beigās. Zirgu tramvajs beidza pastāvēt 1901.gadā, kad to nomainīja elektriskais.
Latgales priekšpilsētas ikdienas dzīve bija piesātināta ar dažādiem notikumiem un kolorītām personībām, ko pārstāvēja dažādi sabiedrības slāņi, sākot no tirgotāja un beidzot ar parastu zagli.