Latvijas Metodistu baznīca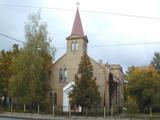 Latvijas Metodistu baznīca
Foto: J.Sedols
Latvijas Metodistu Baznīca Rīgā sāka darboties tikai 20.gadsimta sākumā. Metodistu draudzes dievkalpojumus noturēja dažādās Rīgas vietās , bieži vien dzīvokļos, kas tika pārbūvēti par lūgšanu telpām. Pirmais metodistu draudzes saieta nams Pārdaugavā atradās Baložu un Kapseļu ielas stūrī. Draudze to pārdeva un 1924.gadā nopirka zemes gabalu Slokas ielā. Draudze sāka vākt līdzekļus dievnama celtniecībai. Būvprojektu izstrādāja būvinženieris Jānis Levans, to apstiprināja 1930.gada 19.jūnijā, bet jūlijā jau tika ielikti celtnes pamati.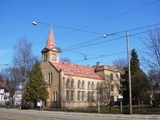 Latvijas Metodistu baznīca
Foto: M.Strīķis
Metodistu baznīca ir divstāvu celtne, kas kalpo gan kā lūgšanu nams, gan kā draudzes ēka. Baznīca vērsta ar gala fasādi pret Slokas ielu. Lūgšanu namam gruntsgabala dziļumā piebūvēta trīsstāvu draudzes ēka. Lūgšanu nama plānojumā iezīmējas centrālā ass, uz kuras atrodas ieejas vestibils , taisnstūra lūgšanu zāle, kas noslēdzas ar trapecveida altāra apsīdu. Altāra apsīdā ,kas pārsegta ar lēzenu velvi, ir altāra galds ar trim krēsliem, kā ari altāra glezna "Kristus Debesbraukšana". Altārdaļu no lūgšanu telpas atdala koka sētiņa. Altārdaļai piebūvēta draudzes ēka, kur atrodas telpas draudzes vajadzībām un mācītāja dzīvoklis. Tās plānojums ir ērts un funkcionāls. Pirmajā stāvā atrodas draudzes telpas, bet otrajā un trešajā stāvā mācītāja un draudzes vecākā dzīvokļi.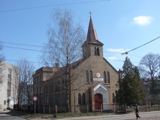 Latvijas Metodistu baznīca
Foto: M.Strīķis
Baznīca celta no dzelteniem ķieģeļiem, un bija paredzēts to apmest, bet tas nav izdarīts vēl šodien.
Metodistu dievkalpojumos liela loma ir garīgai mūzikai, tāpēc baznīcās rīkoja arī koncertus, kuros uzstājās pazīstami dziedātāji. Šajā dievnamā ir uzstājies slavenais krievu dziedātājs Fjodors Šaļāpins.
Metodistu draudzei liktenīgs izrādījās pēckara periods. 1948.gadā padomju vara slēdza visus metodistu lūgšanas namus Latvijā un aizliedza šo draudžu darbību. Dievnams tika atdots luterāņu draudzei.
Metodistu draudze savu dievnamu atguva 1993.gadā. Dievnamā darbojas Latvijas Apvienotās Metodistu Baznīcas Rīgas 2.draudze. Tagad tas atkal pulcina metodistus un katru svētdienu notiek dievkalpojumi.