Ķengaraga arhitektūra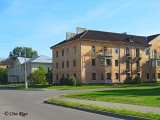 Ķengaraga 50-to gadu apbūve
Lai arī Ķengarags vēsturiski ir bijis daļēji rūpniecības rajons, tomēr mūsdienās tas ir vairāk kļuvis par "guļamrajonu". 20. gs. 50. gados Ķengaragā sāka celt divstāvu tipveida dzīvojamās mājas dzelzceļa strādnieku vajadzībām, attīstījās arī individuālā apbūve pēc arhitekta A. Baikova parcelācijas projekta.
1962. gadā izstrādātā detaļplānojuma tika sākta daudzstāvu apbūve. Pēc izstrādātā plānojuma, bija paredzēts, ka šeit dzīvos ap 60 000 cilvēku. Dzīvojamais masīvs sastāv no 5 mikrorajoniem un to centriem, rajonu sabiedriskā un tirdzniecības centra Bultu ielā. Piecstāvu apbūvi papildina divpadsmitstāvu torņu ēkas. Pie apbūves strādājuši arhitektori L. Nagliņš, A. Ozoloņa, N. Eglīte, M. Brodskis, E. Jēkabsons u.c.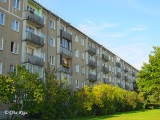 464. sērijas ēka
Pamatā apbūvei tika projektētas piecstāvu blokmājas. Viens noteicošajiem principiem bija ēku izvietošana ap daļēji noslēgtiem iekšējiem pagalmiem, novietojot tās savstarpēji gan taisnā, gan platā leņķī attiecībā pret galveno mikrorajona ielu. Parādījās arī jaunas 12 stāvu mājas, kā rajona apbūves akcents.
Ķengaragā plaši sastopamas 464. sērijas mājas tā dēvētais jaunais Lietuviešu projekts. Ēkām ir 5 stāvi, tās veidotas no pelēkiem betona paneļiem, kuros izveidotas logu ailes. Fasādes plaknes detalizāciju papildina vizuāli trausli balkoni dienvidu pusē, bet vēlākos risinājumos lodžijas. 464. sērijas apbūves rajonu raksturīga iezīme ir kupli, tomēr visai nekopti zaļumi — krūmi, koki, kas ir vai nu stādīti, vai palikuši pēc iepriekšējās apbūves nojaukšanas. Uz fasādēm vīnstīgas, kas izveidojušies apbūves 30 gadu pastāvēšanas laikā.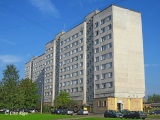 467. sērijas ēka Bultu ielā
Ķengaragā plaši sastopamas arī 467. sērijas ēkas, kas ir 9 stāvu gaiši pelēkas lielpaneļu ēkas. Fasāžu kompozīciju nosaka vertikālas lodžiju joslas, kuras bieži tiek aizstiklotas. Blāvas krāsas parādes kāpņu telpu ārsienu krāsojumā, gaišāki toņi — lodžiju margās. Nelielas variācijas parādās kāpņu telpu logu izveidē, kur parādās kāpnēm sekojošs pakāpjveida ritms. Uz jumtiem izbūvētas veļas žāvēšanas nojumes, kas agrāk bagātināja siluetu, taču šodien paredzētajai funkcijai netiek izmantotas.
Pretēji citām Rīgas apkaimēm šeit ir maz jauno projektu. Minēsim tikai dažus. 2005. gada augustā ekspluatācijā tika nodots projekts Jāņu vārtu muiža, kas atrodas Salaspils ielā 22. Tā ir rekonstruēta māja, kas atrodas labiekārtotā teritorijā 2200 kv.m platībā. Nesošās sienas būvētas no ķieģeļiem, pārsegumi – no dzelzsbetona.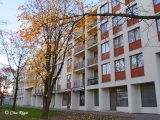 Jaunais projekts
"Ķengaraga zieds"
Prūšu ielā 4 tiek attīstīts projekts "Ķengaraga zieds", kas vēl nav nodots ekspluatācijā. Radīts mūsdienīgs un ekonomisks. Šajā projektā ir 299 dzīvokļi, to raksturo pārdomāta un ērta infrastruktūra. Pie ēkas ir izveidota atpūtas zona un labiekārtots bērnu rotaļu laukums.
Ķengaraga apbūves piemēri
Višķu ielas apbūve
Aviācijas ielas apbūve
Festivāla ielas apbūve
Ikšķiles ielas apbūve
Bultu ielas apbūve
Prūšu ielas apbūve