Ebreji Maskavas priekšpilsētā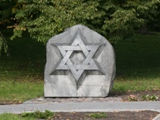 Piemineklis Ebreju kapos
2008.g.
Pirmās ziņas par ebreju tirgotāju ierašanos Rīgā datētas ar 1536. gadu. Taču pastāvīga ebreju apmetne sāka veidoties 1638. gadā, kad aiz Rīgas mūriem, pie tā saucamām Kārļa slūžām, tagadējā Centrāltirgus rajonā, uzcēla atsevišķu ebreju apmešanās namu. Katru dienu, beidzoties tirgošanās laikam, ebrejiem bija jāatstāj pilsētas teritorija, kur viņi drīkstēja atkal atgriezties tikai pēc tirgus atvēršanas. Likums par aizliegumu dzīvot Rīgā palika spēkā arī pēc vidzemes un Rīgas pievienošanas Krievijas impērijai.
Heinrihs Rozens 1638.gadā, zviedru valdīšanas laikā, aiz Rīgas nocietinājumu mūriem pie Kārļa slūžām uzcēla atsevišķu ebreju namu, kurā atļāva apmesties iebraukušajiem ebreju tirgotājiem. Sāka veidoties ebreju apmetne, kas pazīstama ar nosaukumu "Judenherberge". Tas bija nepievilcīgs nams, bez ērtībām. No 1666.gada "ebreju namu" Rīgā uzraudzīja kristīgs cilvēks. Viņš bija ne tikai šī nama pārvaldnieks, bet kontrolēja arī ebreju tirgotājus, kuri drīkstēja pirkt un pārdot preces Rīgas iedzīvotājiem. Rīgā bija spēkā likums, kas aizliedza diviem iebraucējiem savstarpēju tirgošanos.
Ebreju nama pārvaldnieku dēvēja par "ebreju saimnieku" /Judenwirt/. Viņš atļāvās pat sist atbraukušos ebrejus. Pēc sūdzības saņemšanas tiesnesis viņam piesprieda 8 dienas cietumsodu vai 8 dālderu naudas sodu. 1685.gadā "ebreju māju" iekārtoja labākā namā, kur bija ērtāki dzīves apstākļi. Taču par istabu bija jāmaksā arī prombūtnes laikā. Rīgas tirgotāji un amatnieki neatlaidīgi cīnījās pret ebreju ieplūšanu Rīgā un kādu laiku tas pat bija aizliegts, 1724.gadā Rīgas uzņēmējam atļāva atjaunot "ebreju māju", paaugstinot uzturēšanās maksu.
1765.gadā Maskavas un Dzirnavu ielas stūrī uzcēla jaunu ēku kompleksu. To 50 gadus pārvaldīt drīkstēja Johans Benkens. Vēlākajos gados tika uzcelti vairāki šādi "ebreju nami". 1813.gadā Maskavas priekšpilsētā tādi bija 2, bet precīza atrašanās vieta nav zināma.
18.gs. vidū caurbraucošiem ebrejiem atļāva uzturēties Rīgā 6 nedēļas. Bet bija, t.s., "aizsargājamie ebreji", kas maksāja daudz, un varēja uzturēties Rīgā neierobežotu laiku. Trešā kategorija bija tie ebreji, kas dzīvoja Jūrmalā un darbojās Rīgā.
19. gadsimta sākumā Rīgā bija jau 700-800 ebreju. Kā tirgotājiem un amatniekiem viņiem bija sava vieta pilsētas saimnieciskajā dzīvē. Daudzi ebreji cīnījās par tiesībām iegūt Rīgas pilntiesīgu pilsoņu - namnieku statusu. Pilsētas vāciskā rāte to nevēlējās, jo negribēja dalīt ar naudīgajiem ebrejiem vācu priviliģēto stāvokli. Tomēr ebreju petīcijas uz Pēterburgu izrādījās ietekmīgākas, un 1841. gadā Krievijas Senāts izdeva noteikumus, kuri paredzēja pierakstīt Rīgā tur jau faktiski dzīvojošos ebrejus, bet ne jaunus ieceļotājus. Šie noteikumi arī paredzēja, ka kļūstot par pilsētas pamatiedzīvotājiem, ebrejiem jāmaina sava mode, jāpārtrauc nēsāt ebreju stila garie mēteļi un īpatnējās platmales, kā arī uzmetņi. Turpmāk viņiem, izejot uz ielas, vajadzēja tērpties tāpat kā vācu birģeļiem. Tas tika darīts, lai "brīvie" ebreji īpaši neizceltos ar savu ārējo izskatu un lai viņi parādītu, ka pieņem vācu pilsoņu manieres. 1864.gadā speciāla komisija sagatavoja 409 ebreju sarakstu, kuri pastāvīgi dzīvoja Rīgā, norādot, ka viņi ir jāreģistrē šajā pilsētā. Tas bija Rīgas ebreju draudzes sākums. Ebreji dzīvoja dažādās Rīgas vietās. Vairums no viņiem, pamatā trūcīgie, dzīvoja Maskavas priekšpilsētā un bija drēbnieki, kurpnieki, cepurnieki, galdnieki.