Satiksme ar Kundziņsalu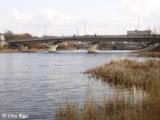 Tilts uz Sarkandaugavu
Līdz pat tilta uzcelšanai vienīgais kontakts ar ārpasauli saliniekiem bija kuģīšu satiksme, bet pēdējais kuģītis bija pusnaktī. Vajadzības gadījumā kuģītis varēja kursēt arī vēlāk iepriekš vienojoties ar kapteini. Kuģītis kursēja ar 15 minūšu intervālu. Pēdējā kursējošā kuģīša nosaukums bija Vilnis. Abās Sarkandaugavas pusēs bija steķi – viens kuģītim, otrs laivām, jo produktus vietējiem veikaliem pieveda ar laivām.
Bez kuģīšu satiksmes varēja izmatot arī personīgās laivas, kas piederēja lielai daļai salinieku. Satiksme ar cietzemi bija nedaudz vieglāka ziemas laikā, kad Daugavai aizsalstot to varēja šķērsot kājām, Daugavai aizsalstot tika liktas arī speciālas laipas uz ledus.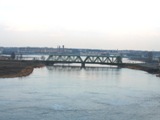 Dzelzceļa tilts uz Kundziņsalu
Kamēr pastāvēja mazdārziņi bija iespējams arī alternatīvs veids, kā tur iekļūt, neizmantojot tiltu uz Kundziņsalu. Kāds attapīgs vīrs dārziņu īpašniekus un citus ziņkārīgos interesantus uz salu pārcēla ar savu koka airu laivu, par to iekasējot 0,20-0,40Ls no cilvēka (summa tika pieskaņota tā brīža sabiedriskā transporta biļetes cenai). Šī "pārceltuve" atradās Meldru ielā Vecmilgrāvja pusē un Kundziņsalas galā. Kustības grafiks bija atbilstošs "pieprasījumam", jo šis satiksmes veids darbojās nelegāli.
Salu ar Sarkandaugavu savieno tilts, kas uzcelts 1959. gadā, un kas balstīts uz četriem balstiem. Šajā vietā Sarkandaugava ir aptuveni 15 m dziļa. Tiltam ir izraudzīta šaurākā vieta. Tilta rekonstrukcijas darbi notika 2000. gadā.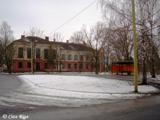 33. autobusa galapunkts
Kundziņsalā 2007.g. ziemā

Tagad no salas uz pilsētas centru reizi 1,5 stundā kursē 33. autobuss, bet pēdējais reiss no Kundziņsalas atiet jau ap desmitiem vakarā. Līdz pat neatkarības atgūšanai 1991. gadā privātā automašīna bija rets izņēmums salinieku dzīvē. Tagad tā ir norma, ko daļēji veicina arī sabiedriskā transporta nepieejamība.

Cauri visai Kundziņsalai kopš 20.gs. 80-tajiem gadiem stiepjas dzelzceļa līnija, kas tika uzbūvēta speciāli ostas vajadzībām. Tomēr vilcienu satiksme šeit ir ļoti reta, tāpat arī vidējais ātrums ir mazs, kas saistīts ar sliežu tehnisko stāvokli. Laikā kad vēl pastāvēja mazdārziņi nebija retums, kad pazuda pāļi, kas atradās zem sliedēm, īpaši Rutku salas teritorijā. No dzelzceļa pāļiem mazdārziņos bija uzcelta pat pirts. Daļa no dzelzceļa līnijas ir uzcelta uz dambja, kas aiztur Daugavas ūdeņus palu laikā.