v/a "Latvijas Nacionālais vēstures muzejs" nodaļa Dauderi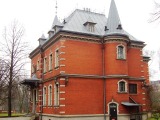 Muzejs Dauderi 2008. gadā
Par latviešu muzeju pirmsākumiem Rīgā var runāt sākot ar 19. gs otro pusi, kad 1868.gadā nodibināja Rīgas Latviešu biedrību. 1869.gadā izveidotā Zinību komisija, uzsāka muzejisku priekšmetu vākšanu, lai radītu latviešu muzeju pretstatā jau esošajiem, baltvācu organizētiem un vadītiem muzejiem. Jaunais muzejs savas darbības pirmajos gadu desmitos pieņēma visu, ko tam dāvināja. Līdz ar arheoloģijas, etnogrāfijas un numismātikas kolekcijām vāca arī ģeoloģijas, botānikas un zooloģijas materiālus, kuru kolekcijas tiek izmantotas daudzos šodienas muzejos. Tomēr Sarkandaugavai līdzīgi kā citām Rīgas priekšpilsētām nācās vēl ilgi iztikt bez sava muzeja. Vienīgais Sarkandaugavas muzejs Kultūras muzejs Dauderi atklāts 1990. gadā.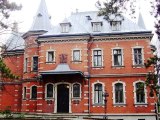 Muzejs Dauderi 2008. gadā
Muzejs Dauderi - savdabīgais, no sarkaniem ķieģeļiem celtais nams ar saviem tornīšiem un kolonām, uzreiz piesaista uzmanību. 1898. gadā šī ēka, pēc arhitekta R. Hoisermana un inženiera F. Senberliha projekta, būvēta kā bijušās alus darītavas "Waldchlosschen" īpašnieka dzīvojamā ēka ar nosaukumu "Von Dinderner". Izteikta eklektisma stila ēka, kas tika celta vācu neorenesanses ietekmē, izmantojot no Vācijas ievestus sarkanos apdares ķieģeļus, tumši pelēkās dabīgā šīfera jumta ieseguma plāksnītes, kā arī citus interjera apdares materiālus. Parku ar dīķi un mākslīgajām pilsdrupām ap to iekārtojis Rīgas pilsētas galvenais dārzu arhitekts G. F. F. Kūfalts.1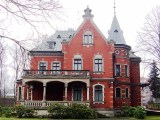 Muzejs Dauderi 2008. gadā
No 1936.-1940. gadam ēka nonāca Kredītbankas īpašumā, un no 1937. gada Latvijas Valsts prezidents K. Ulmanis namā, saņemot to kā dāvanu no bankas savā 60-gadu jubilējā, iekārtoja savu rezidenci, dodot tai "Dauderu" nosaukumu. Līdz 1988. gadam ēkā atradās bērnudārzs un zivju fabrikas "Kaija" sortimenta cehs. 1988. gada novembrī Gaidis Graudiņš izteica Latvijas Mākslas muzeju apvienībai vēlēšanos dāvināt Latvijai savu, trimdas laikā savākto darbu, kolekciju, tomēr neviens no Rīgas vēstures muzejiem neizrādīja ieinteresētību par kolekciju. Kā iespējamais variants kolekcijas izvietošanai tika minēti Dauderi, kas tajā laikā stāvēja faktiski tukši, tikai ar vienu iebraucēju ģimeni bēniņos. Lai arī nams bija nolaists un nekopts, tas nebija izdemolēts, bija saglabājušies kamīni, koka paneļi, grieztu gleznojumi, apkārt plašs aizaudzis dārzs. Tomēr vissliktākais bija mājas atrašanās rajons. Ja K. Ulmaņa laikā tā bija pilsētas atpūtas zona, tad tagad Sarkandaugava bija kļuvusi par rūpniecības rajonu.2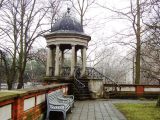 Muzejs Dauderi 2008. gadā
Kolekcijas nodošana un ēkas iegūšana ieilga līdz 1989. g 28. septembrim, kad ar LPSR Ministru Padomes lietu pārvaldes rīkojumu Nr. 294 -g ēka Tvaika ielā 44 nonāca Latvijas Muzeju apvienības rīcībā un tika saņemts 405 000 rubļu liels finansējums no 1990. gada budžeta.3
1990. gada 27. jūnijā, XX Vispārējo latviešu dziesmu svētku laikā, tika atklāts Latvijas Kultūras muzejs Dauderi. Muzeja kolekciju veidoja: numismātika, faleristika, armijas formas tērpi un to piederumi, tiesnešu un pilsētas galvu amatu ķēdes, saktas un tautas tērpi, mākslas darbi, grāmatas, žurnāli, dekorāciju skices operas uzvedumiem "Judīte" un "Salome", K. Ulmaņa un ģenerāļa J. Baloža portreti.4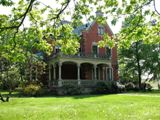 Muzejs Dauderi
Kopš 2010. gada janvāra Latvijas Kultūras muzejs "Dauderi" tika pievienoti v/a Latvijas Nacionālajam vēstures. "Dauderos" var iepazīties ar nama vēsturi, kā arī apskatīt daļu G. Graudiņa kolekcijas, ko veido Latvijas Republikas apbalvojumi, Latvijas armijas vienību krūšu nozīmes, lauksaimniecības izstāžu un sporta apbalvojumi, studentu korporāciju breloki, un izstādi "Divas dienas Kārļa Ulmaņa dzīvē".
Muzeja "Dauderi" iekštelpās
Muzeja "Dauderi" iekštelpās
Muzeja "Dauderi" iekštelpās
Muzeja "Dauderi" iekštelpās