Arkādijas parks (dārzs)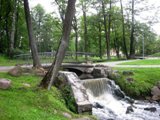 Arkādijas parks
Источник: riga.in
Arkādijas parks (dārzs) atrodas starp Ojāra Vācieša un Friča Brīvzemnieka ielām un Rīgas - Jūrmalas dzelzceļa līniju. Parka platība ir 6,2 ha.
Šo teritoriju rīdzinieki jau sen bija iecienījuši kā atpūtas vietu. 1794. gadā te ierīkoja izpriecu vietu vienkāršajai tautai - tur notika atrakcijas, teātra izrādes un Līgo svētki.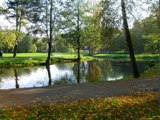 Arkādijas parks
1852. gadā Prūsijas ģenerālkonsuls H. K. Vērmanis kāpas galā uzcēla māju ar palīgēkām un siltumnīcu, kurās auguši firziķi, aprikozes, vīnogas un retas palmu sugas. 1885. gadā parkā peļņas nolūkā uzcelts teātris, ierīkota bumbotava, tādējādi parku pārvērta par atpūtas vietu.
Pēc H.K. Vērmaņa nāves parksam vairākas reizes ir mainījušies īpašnieki, līdz 1896. gadā parku nopirka Rīgas pilsēta. Tajā pašā gadā parks tika pārsaukts par Torņakalna parku (atrodas uz robežas starp Āgenskalnu un Torņakalnu).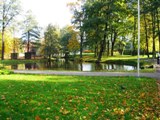 Arkādijas parks
1900. gadā darbu pie parka labiekārtošanas sāka G.F.F. Kūfalts. Parkā tika ievadīta Mārupīte, kas plūda cauri parkam, tika ierīkotas kaskādes, ūdenskritumi, tiltiņi, uzcelta dārznieka māja un izveidoti jauni apstādījumi. Daļu no parka teritorijas iznomāja, lai iegūtu līdzekļus tā uzturēšanai. Nomnieks parkā 1910. gadā uzcēla restorānu "Arkādija", kuru 1958. gadā pārveidoja par kinoteātri, tika ierīkota šautuve, bumbotava un mūzikas paviljons. Parka labiekārtošanu pabeidza 1911. gadā, un tajā pašā gadā to pārsauca par "Arkādiju".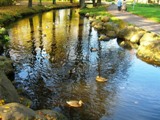 Arkādijas parks
1926. gadā pēc A. Zeidaka projekta parkā tika veikti rekonstrukcijas darbi – izbūvēts koncerta laukums, 1927. gadā pēc P. Kundziņa projekta uzcelta estrāde, ierīkots bērnu rotaļu laukums, atbalsta sienas, kāpnes un ziemciešu stādījumi.
Lai gan oficiāli parku izveidoja 1911. gadā, vēl šodien tiek izmantota katra izdevība, lai to kaut nedaudz paplašināt uz apkārtējo teritoriju rēķina. 1988. - 1989. gadā, sākoties Atmodai, parka estrādē pulcējušies vides aizsardzības kluba pārstāvji un viņu atbalstītāji. Arkādijas parkā notika gan pret metro celtniecību vērstās akcijas noslēgums, gan LNNK dibināšanas sapulce.
Arkādijas parka bildes

Arkādijas parks

Sporta biedrības "Lokomotīve"
ēka Arkādijas parkā

Arkādijas parks
Avots: riga.in

Mārupītes vecā gultne
Torņakalna dārziņos

Bijusi kinoteātra ēka Arkādijas
parkā, vēlāk tika nojaukta

Bijusi kinoteātra ēka Arkādijas
parkā, vēlāk tika nojaukta

Vieta, kur atradās estrāde
Arkādijas parkā

Vieta, kur atradās estrādes skatītāju soliņi un koncerta laukums

Viens no Arkādijas parka ūdenskritumiem