Rātslaukums un Melngalvju nams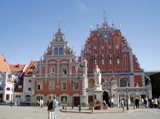 Rātslaukums
2008.g.
Rātslaukums izveidojās no tirgus laukuma un līdz pat 19.gadsimtam bija pilsētas saimnieciskais un administratīvais centrs, lai gan bija daudz mazāks nekā tagad. Laukumā tika uzvestas mistērijas, notika gājieni, sacensības, turnīri un dejas. Taču rātslaukumā vairākus gadsimtus bija arī noziedznieku soda vieta, uz kurieni doties aicināja Jēkaba baznīcas zvans.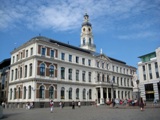 Rātsnams
Viena no rātslaukuma galvenajām celtnēm bija Rātsnams, kas bija trīsstāvu celtne ar torni un pulksteni tajā. Torņa smailē atradās vēja rādītājs ar uzrakstu 1756. Virs simetriskas celtnes vidusdaļas paceļas neliels trīsstūrveida frontons, kuru rotā pilsētas ģerbonis, virs kura novietots taisnības dievietes Justīcijas tēls. Galveno ieeju namā iezīmē uz kolonām balstīts balkoniņš. Šajā namā līdz pat 1889. gadam valdīja Rīgas rāte, kad pilsētu sāka pārvaldīt vēlēta pilsētas dome.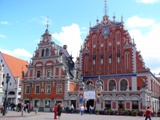 Melngalvju nams
Otra nozīmīgākā celtne Rātslaukumā bija Melngalvju nams, kas pirmoreiz avotos minēts 1334. gadā kā Lielās ģildes Jaunais nams. Sākotnēji to īrēja Lielās ģildes tirgotāji, bet vēlāk neprecēto tirgoņu - melngalvju brālība. Melngalvji bija gados jaunu, neprecētu tirgoņu un kuģu kapteiņu apvienība, kas par savu aizbildni bija izraudzījušies Sv.Maurīciju - romieša leģiona komandieri, kas mira mocekļa nāvē - viņam tika nocirsta galva, tāpēc mora galvas atveids kļuva par melngalvju pazīšanas zīmi. Melngalvju nams 2. Pasaules kara laikā tika nopostīts. Bet 1999.gadā to atkal atjaunoja, tādējādi piepildījās nama vārtos agrāk lasāmais pareģojums "Ja man kādreiz sabrukt būs, man atkal celiet Jūs".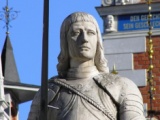 Rolanda statuja
1896.gadā Rātslaukumā uzstādīja viduslaiku pilsētas aizbildņa Rolanda statuju. Rolands tiek uzskatīts par taisnīga soda spriedēju, apsūdzēto aizstāvi un tiesas lēmuma taisnīgu izpildītāju. Tādēļ viņa statuja tika novietota tirgus laukumā, pretī rātsnamam.
Melngalvju nama bildes

Melngalvju nams naktī

Melngalvju nama fragments

Melngalvju nama ieeja



Rātslaukuma atrašanas vieta Rīgas kartē