Burtnieku nams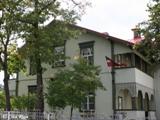 Burtnieku nams
Atrodas Ziemeļblāzmas ielā 38. 1906. gadā, atjaunojot Ziemeļblāzmu, radās nepieciešamība to izveidot atšķirīgu no citām tā laika līdzīgām organizācijām, lai varētu nodrošināt ciešāku radošās inteliģences piesaisti gan ideju, gan to līdzi dzīvošanas līmenī. Jaunrades nama celšanas pirmos impulsus deva J. Kreicbergs, kas bija A. Dombrovska ģimenes notārs un G. Škilters, tēlnieks. Par galveno jaunā nama iemītnieku bija iecerēts uzaicināt Kr. Baronu. Sarunā ar Kr. Baronu radās arī nosaukums – Burtnieku nams. Ēkas būvprojektu izstrādāja G. Škilters, realizējot A. Dombrovska idejas.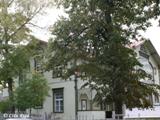 Burtnieku nams
Burtnieku nams aktīvi darbojās līdz 1913. gadam, kad tā iemītnieki sāka izklīst. 1915. gada 15. maijā Kr. Barons veica pēdējo ierakstu "Burtnieku nama" mājas grāmatā – atzīmēja šeit ievietotās Latvijas Palīdzības komitejas rezervistu bērnu patversmes sešas darbinieces un bērnu skaitu. 1915. gada 21. jūlijā bērnu patversme tika pārvietota uz pilsētas centru.
Dzīvojot Vecmīlgrāvja jaunrades namā, daži no rakstniekiem un māksliniekiem piedalījās "Ziemeļblāzmas" rīkotajās aktivitātēs, kas aptvēra ļoti plašas kultūras dzīves sfēras, sākot no lekcijām un priekšlasījumiem un beidzot ar teātra izrādēm.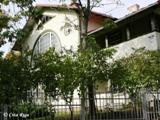 Burtnieku nams

1990. gadā Burtnieku mājā sāka darboties 2. mūzikas skola. 20. gs. izskaņā A. Dombrovska novēlējums ir - nodot to tautas izglītošanas vajadzībām. 2008. gadā Rīgas 2. mūzikas skola pārdēvēta par Augusta Dombrovska mūzikas skolu.

Sīkāk par Burtnieku namu lasiet Rīgas vēstures enciklopēdijas sadaļā "Vecmīlgrāvis".

Burtnieku nama atrašanas vieta Rīgas kartē