Rīgas mūra fragmenti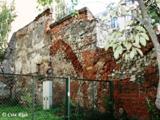 Rīgas aizsargmūri
2009.g.
Rīga, kā jebkura cita viduslaiku pilsēta, nevarēja iztikt bez aizsargmūra. Vēl šodien Rīgas pilsētas aizsargmūra fragmenti ir saglabājušies vairākās vietās, mēs vēlamies parādīt tikai dažus no tiem.
Pirmā mūra siena bija Daugavas labajā krastā no upes grīvas gar tagadējo Minsterejas, Kalēju, Meistaru un Zirga ielu, līdz Daugavas krastmalai un atkal sasniedza Rīgas upes grīvu pie Minsterejas ielas. Nocietinājuma mūris bija aptuveni 9 metrus augts un 1,30 metrus plats. Pirmo reizi tā daļa tika atsegta 1937. gadā, kad nojauca pie tā piebūvētās ēkas Jāņa sētā. Bet mūra fragments tika rekonstruēts 1960. gadā. Tas atrodas tagadējās Jāņa sētas vietā. Ārpusē pilsētas nocienājumi izskatījās kā augsta mūra siena, bet pilsētas iekšpusē tie bija sadalīti divos stāvos.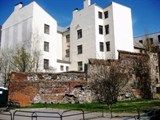 Rīgas aizsargmūri
Avots: riga.in
Rīgas pilsēta jau 13. gs. sākumā sāka izplesties arī ārpus pilsētas mūriem. Pieaugot iedzīvotāju skaitam, ārpus pilsētas mūriem radās ar vien vairāk dzīvojamo ēku. Jau 13. gs. vidū šo apbūvēto piepilsētas rajonu ieslēdza pilsētas mūros. Mūra sienu pagarināja no Zirgu ielas līdz Pulvertornim un no turienes Torņa ielas virzienā līdz Daugavai, pa krastu to turpināja vecais mūris. Paplašinātā Rīgas teritorija pastāvēja vairākus gadsimtus. Jaunais pilsētas mūra fragments ir saglabājies vēl līdz šodienai un redzams (Lielajā) Trokšņa ielā.
16. gs. ieviesa radikālas pārmaiņas pilsētas arhitektūrā un sadzīvē. 16. gs. sākumā sāka izmantot šaujamieročus un pilsētas nocietinājuma mūris sāka zaudēt savu sākotnējo nozīmi, jo ar lielgabaliem to bija iespējams sagraut. Uzberot vaļņus ārpus pilsētas mūriem, pilsētas platība nedaudz palielinājās, jo sāka apbūvēt arī jauniegūto pilsētas daļu. Veco nocietinājuma mūri sāka izmantot praktiskām vajadzībām – apbūvēja ar dzīvojamām ēkām. Tas redzams Trokšņa ielā.
Rīgas mūra fragmentu bildes

Jāņa sēta

Rāmera tornis

Aizsargmūra fragments



Rīgas aizsargmūru piemēru atrašanas vieta Rīgas kartē