Jāņa sēta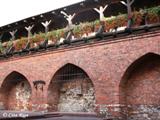 Jāņa sēta
2009.g.
Kvartāls starp Kalēju, Jāņa un Skārņu ielām ietilpst Rīgas pilsētas vecākajā daļā, kuras veidošanās attiecināma uz 13. gs. sākumu. Te tika izbūvēti tādi nozīmīgi objekti, kā Bīskapa pils un Zobenbrāļu ordeņa pils. Ziemeļu pusē šīs celtnes norobežoja pilsētas nocietinājuma mūris un dabiska ūdensšķirtne - Rīgas upe, kuras senā gultne atrodas starp tagadējo Kalēju un Vāgnera ielu.
Pirmo Rīgas bīskapa pili 1234. gadā nodeva dominikāņu klosterim. Vēl šodien ir saglabājušās klostera paliekas - 14. gs celtās krustejas fragments un klostera vārti uz Skārņu ielu. Pēc reformācijas klostera ēkas sāka izmantot pilsēta. Tika ierīkots piespiedu darba nams. 1794. - 1803. gadā Jāņa sētā sāka darboties Nikolaja nabagmāja, bet jau 1828. gadā - Rīgas policijas kazarmas. Tāpēc līdz 1902. gadam to sauca par Policijas kazarmu sētu. 1938. gadā nojauca Jāņa baznīcas skolas celtni, un tās aizmugurē atklājas pilsētas nocietinājuma mūris. Tā bija vispārpieņemta norma pilsētā: laikā, kad pilsētas mūris beidza kalpot savam primārajam mērķim, to nevis nojauca, bet gan apkārt cēla ēkas, tā ietaupot nepieciešamo būvmateriālu daudzumu.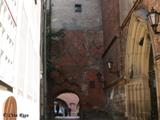 Jāņa sēta
2009.g.
Pilsētas aizsardzības mūri 1957. - 1960. gadam restaurēja arhitekts E. Slavietis. Tika atjaunots senais nocietinājuma mūris 20 m garumā. Restaurācijas laikā izbūvēja arī vārtus uz Kalēju ielu, kas tika apzīmēti kā "melno mūku vārti" un kas pieslēdzas ēkai Jāņa sētā 1.
Jāņa sētas atrašanas vieta Rīgas kartē