Mezhapark and Zoo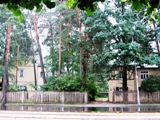 Mezhapark 2007
The Mezhapark is one the most beautiful and prestige residential areas of Riga, and the most favourite place for the rest for Riga people. Until the middle of the 19th century farmers lived on the place and represented here their goods. At the end of 19th century the main engineer of Riga A. Agte decided to build summer cottages in the Lake Kishezers region. The construction works started at the beginning of the 20th century. More then 100 residential houses were built. But the situation changed after the World War II, when beautiful villas have been nationalised and afterwards - left off. In the 90s of 20th century the houses were given back to their owners. Nowadays Mezhapark is one of the most prestigious regions of the city.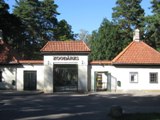 Riga Zoo 2007
There is one more favorite place for rest for Riga people - Riga Zoo, which is the oldest Zoo in Northern Europe. It was established in October 18, 1914. It's territory is 16,4 ha. It is possible to take a look at more the 40 species of different animals, which are in Red book.
Transport to the Mezhapark and Zoo
From the centre by tram number 11 until the stop "Mezhapark"
Mezhapark on the Riga map