Riga New St. Gertrude Lutheran Church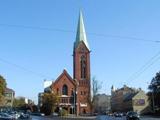 New St. Gertrude Lutheran Church
Photo: J. Sedols
The construction works lasted from 1903 until 1906 according to the project of Vilhelm Fon Strike on Alexander's market place, where used to be Big pump house. The tower of the church is 69 m high. The wind-box is brought from Old St. Gertrude Church in 1906.
Transport to the New St. Gertrude Lutheran Church
From the centre by bus Nr. 1, 3, 6, 14, 16, 21, 40 until the bus stop called "Tallinas Street".
New St. Gertrude Lutheran Church on the Riga map