The Latvian Ethnographic Open Air Museum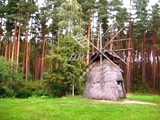 The Latvian Ethnographic
Open Air Museum
Latvian Ethnographic museum is located on the bank of the Juglas Lake and it was established in 1924. For the visitors the museum was opened in 1932. This is one of the oldest, richest and biggest museums in Europe. The total area of it is 87 ha. Examples of farmer's yards, workshops, windmills, forges and stoves collected from all four ethnographic regions of Latvia are gathered in the museum. There are also some churches, building where at the beginning of 18th century there was the school for farmer's children, pub which is still working on the territory of museum.
Transport to the Latvian Ethnographic Open Air Museum
From the centre by bus number 1 until the bus stop called "Ethnographic museum"
The Latvian Ethnographic Open Air Museum on the Riga map