Riga Cemetery of the Brethren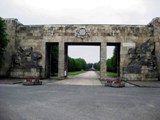 Cemetery of the Brethren
Source: riga.in
The Cemetery of the Brethren is on of the most remarkable memorial ensemble. At first the cemetery was planned only for the funeral of the soldiers died during World War I for the independence of Latvia. In the 1923 the closed competition for the construction of Warrior's cemetery was announced. The construction continued for 12 years, the architect itself was guiding it. The ensemble was consecrated on November 11, 1936 during the ceremonious rite on Lachplesis day. The cemetery starts from the gate, after which there is an alley of lime and The Road of Contemplation, 2005 m long. Behind the alley there is The Terrace of Heroes with the Eternal flame. There is a view on the cemetery form that terrace, the cemetery ends with the wall of Latvia and the view of Mother Latvia with died sons.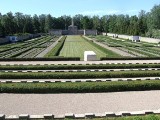 Cemetery of the Brethren
After the World War II died soldiers of the Soviet Army were buried on the territory of cemetery. Every symbolic of Latvian government was taken off. It was restricted to light candles on the territory of the cemetery. But after the restoration of Latvian independence the cemetery restored its status of the cultural monument.
Photos of Cemetery of the Brethren
Cemetery of the Brethren
Cemetery of the Brethren
Cemetery of the Brethren
Photo: Uldis Bārdiņš
Transport to the Cemetery of the Brethren
From the centre by tram Nr. 11 until the stop "Cemetery of the Brethren" ("Brāļu kapi"), then down the Aizsaules street.
The Cemetery of the Brethren on the Riga map