Riga Central Market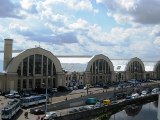 Riga Central Market
On December 28, 1922 Riga council decided to build the central nutritive market. For this purpose Riga bought shed for dirigibles left by German army in Kurzeme. At first it was planned to leave the intact, but shed didn't match the sanitary norms of that time, therefore sheds were used only partially. 5 pavilions were planned. The construction works begun in June 1924. Before that two so called red Speakers were demolished. The construction works ended in autumn 1930, and on November 2 it was given for exploitation.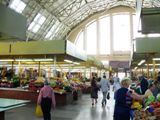 Riga Central Market
Riga Central Market is the biggest building in the post-war period in Riga. The commercial rooms of all buildings are on the first flour, but the buildings were built giving the fact that the second flour also can be built some day. Under the pavilions there are big warehouses with refrigerators and underworld tunnels. The whole territory of the market is 5,7 ha, including 1,6 ha under the buildings.
Photos of the Central Market

Central Market in 1930
Source: 1201.lv

Central Market in 1964
Source: 1201.lv

Central Market in 1964
Source: 1201.lv
Transport to The Central market
• The Central market is in 10 minutes walk from Old Riga
• 5 minutes walk from the National Opera
• 2 minutes walk from the Railway station
• 1 minute walk from the Bus station.
The Central Market on the Riga map